FREE GIVEAWAY
Just Signup with either #1 and/or #2 offer of your

choice!
FREE GIVEAWAY
The

NEXT BIG HIT
Supporters
Just submit your information below, and you'll receive these 5 exciting FREE GIFTS!
​
1. Enter for the chance to WIN a day as VP GUESTS on SET BEHIND the SCENES in Los Angeles, CA to watch DINO and SHAWN's adventure and be a part of the history of how this Indie Martial Arts Musical Comedy gets made. (DTBD)
​
2. A first of it's kind live streaming across the world. I'll host 1 streaming on set behind the scene during the actual action scene of the film. Watch from your computer or mobile device, and after the scene the cast will stick around to answer people questions about the film as they can via online Q&A.
3. A live group movie screening across the world. I'll host three live online screenings of the film. After each screening, I'll stick around to answer as many of your questions about the film as they can via online Q&A.
​
4. As Zak will like to see every fans to stay healthy and fit you will get the streaming original FREE STREET KICKBOX WORKOUT.
​
5. By SUBMITTING you will enter for chance to WIN Zak's X3S Bench (x3sbench.com) the versatile full body workout exercise home fitness equipment of the value up to $500.​
​
*Shooting started October 2021til 2023
*Travel and accommodations not included.
*COVID19 Test Protocol will be required.
24hrs NO-STOP-STEP-A-THON
​
SUPPORT the NEXT BIG HIT that will BENEFIT the HEART of LOS ANGELES
GET READY ZAK'S COMING BACK 2023 (DTBD) at the Santa Monica Stairs, California. On April 28, 2012 Zak establish his personal extreme fitness record of climbing non-stop for 24 hours at California's popular Santa Monica Stairs: 189 steps repeated 316 times, ascent and descent, for a total of 59,724 steps. in which Zak burned in excess of 10,000 calories. A distance equal to one and a half the height Mountain Everest.
​
NOW YOU can join Zak with your TEAM of 10 of your 10 Best Step Climbing Friends in person LIVE or just participate in the event during FREE LIVE STREAMING to help support of "The NEXT BIH HIT" movie. The film benefits the Heart of Los Angeles non-profit organization and Animals Local Rescue. FOR MORE INFO ENTER! LET'S GO!
​
​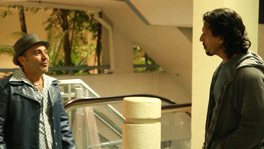 Logline
"The Next Big Hit" is an action-comedy about a down and out stunt man and his gay, high-strung movie producer cousin, on the run from a loan shark. The two hope producing a martial-arts musical will be the answer to their financial prayers and keep them from "sleeping with fishes"
​
Inclusion Statement
With mega successes of films such as "Rush Hour", "Blues Brothers", "The Producers", and "John Wick", American audiences are growing more and more enamored by films with martial art themes and comedy, as well as the growing popularity of "LGBTQ+ Themed" shows featuring predominantly LGBTQ+ cast lineups.
With its dark comedy crime underworld storyline and outlandish accounting of the making of a martial arts musical, The Next Big Hit combines elements of the smash Broadway play "The Producers" with the hit film, "Get Shorty". As an offbeat buddy flick combining a fabulously gay producer and a very straight martial arts stuntman, it also shares similarities with the hit films "Rush hour", "Birdcage" and the "Blues Brothers".
Christopher Wolfe



as "
Falconi
"
Perry Anzilotti




as "Shawn Benito"
Zak Lee Guarnaccia




as "Dino Benito"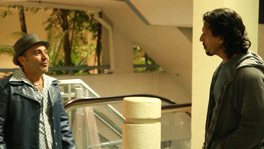 Cerina Vincent




as "Sarah"